Quinn Cottages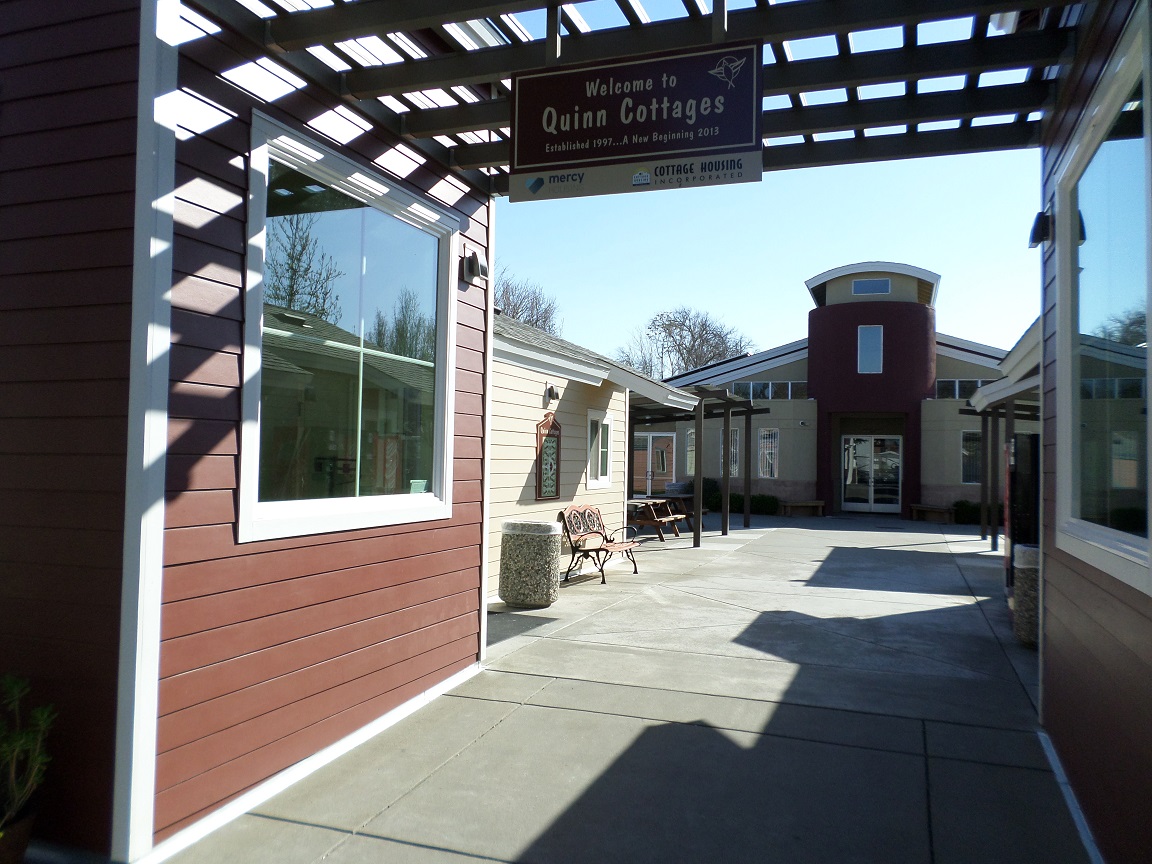 About Quinn Cottages
Cottage Housing, Inc. partners with Mercy Housing California to operate Quinn Cottages, a residential community composed of 60 one-bedroom cottages, serving primarily single men and women, a couple, or a single parent with one child. Residents are encouraged to voluntarily commit to sobriety and to work closely with staff on designing and adhering to their own personal development plans, and to volunteer at both Quinn Cottages and local communities.
Eligibility Requirements:
Must be chronically homeless;
Homeless for 1yr or longer coming from the streets, shelter or place not meant for habitation OR 4 or more episodes of homelessness in a single year
Must have a documented disability; mental health, substance abuse, HIV or AIDS
How to apply to Quinn Cottages:
Call 211 and ask to complete the VI-SPDAT assessment over the phone. 211 will conduct the assessment and place you in the community queue, which is a community-wide list for housing agencies in Sacramento. Once you are in the community queue, you will be placed based on your assessment and eligibility, prioritization, and matching with available housing at the time.
**Please note that housing providers and 211 staff are NOT able to directly accept or make placements for housing, as matching to housing programs is done exclusively by the Coordinated Entry System with the community queue**
Contact:
1500 North A Street, Sacramento, CA.
(916) 492-9065
Bishop Francis Quinn
The name Quinn Cottages is in honors of spiritual leader and activist, Bishop Francis Quinn. Without the leadership and support from Bishop Quinn, as well as beloved former Mayor Joe Serna Jr. and Sister Libby Fernandez, Quinn Cottages would not exist.
During his 12 year tenure at the Sacramento Diocese, Quinn added seven new parishes, several missions, two elementary schools and one high school. He also oversaw a 10-year pastoral plan for the Diocese as well as a spiritual renewal program, reorganized the Deanery structure, initiated a Diocesan Pastoral Council and helped the Diocese celebrate its hundredth anniversary.
Quinn Cottages Monthly Resident Services Calendar