Serna Village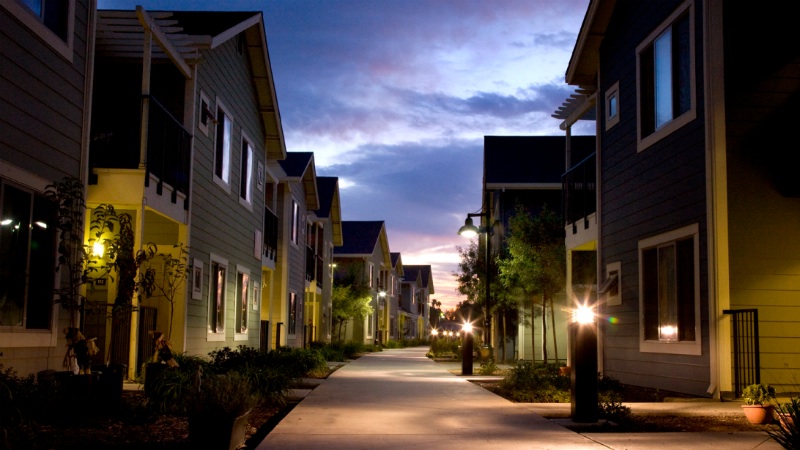 About Serna Village
Just like at Quinn Cottages, Cottage Housing, Inc. partners with Mercy Housing California to operate Serna Village. The development site consists of 83 one-to-four bedroom apartments, with a centrally located Community Center, kitchen and SKYLAB, the community youth magnet..
Serna Village is a permanent supportive housing program for homeless families. The facility, the first of its kind in the region, opened in 2002 to provide housing accommodations to 40 families. The program expanded in 2006 to its current 83 apartments.
Serna Village strives to be a clean and sober community focused on healthy growth and commitment to personal wellness. Participants are encouraged to work closely with our staff on designing and adhering to their own personal development plan, and to volunteer in both the Serna Village and outside communities.
Using the Resiliency Model, which promotes personal development and growth, out intervention strategy is strength-based, peer supported and participant driven.
About Skylab Youth Productions
Skylab is our on-site youth development program. We have extraordinary staff who work side-by-side with the children, offering a variety of different groups, programs, activities and mentoring to help the children learn how to become respectful, responsible and productive members of society.
Eligibility Requirements to become a participant at Serna Village:
You must be homeless and be referred from an outside agency who can verify your homelessness.
Must have an income and a willingness to participate in program services to help you address and overcome the barriers that brought you to homelessness, ie., personal growth, financial/credit restoration, mental and physical wellness, community service and participation.
How to apply to Serna Village:
Go online to www.sacwaitlist.com and fill out the Serna/Saybrook application
Wait for a call from Cottage Housing**
**You will learn about the program, its requirements, next steps and get answers to any questions you may have**
Please Note: The waitlist is currently CLOSED. Please continue to check www.sacwaitlist.com for any updates.
Contact:
5836 Dudley Blvd., McClellan CA 95652
(916) 339-2746
Serna Village Monthly Resident Services Calendar